CUSTOMIZED
EMBROIDERY
Your logo can be beautifully embroidered by creating a pattern to be sewn with needle and thread on a computer controlled embroidery machine to richly depict your logo and related text.
❭ More info

PROFESSIONAL
DIGITIZING
Although the actual sewing of the embroidery process is usually computer controlled, the art of creating the pattern, called "digitizing" will ultimately determine the final quality of the embroidery.
❭ More info

CORPORATE
FULFILLMENT
The satisfaction of our customers is critical to us and we'll do whatever it takes to deliver the highest quality product with the fastest turnaround possible. Let us know how we can help your organization's brand.
❭ More info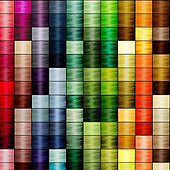 The Fine Art of Embroidery
Quality. Service. Satisfaction.
We believe in quality work and excellent customer service. We understand the importance of deadlines. In fact, our turn times are fast for any size order without sacrificing quality and we take pride in ensuring your logo looks as good on the finished garment as it does on your sample. Fluid Threads is able to accomplish this through high quality, award-winning digitizing, over 15 years of promotional embroidery experience and top-rated Tajima equipment using state of the art technology.
❭ More About Us